Born in 1966, John was raised in the picturesque town of Jim Thorpe, Pa, where he demonstrated a very early interest in music.  He got his first guitar, a borrowed Gibson Hummingbird copy at age 6. Like many kids, one minute he wanted to be "a rock star" and the next minute, a professional baseball player.
J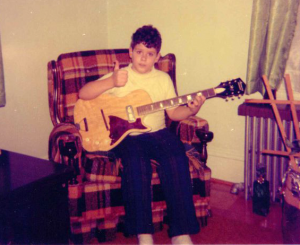 ohn, being a typical boy, spent most of his time riding his bicycle, playing sports, and strumming his guitar.  When he discovered the electric guitar, he began bugging his parents for one every day.  Soon his parents would borrow a white, double-cutaway Univox electric guitar and a Fender Champ amp from a relative.
An accident on his bicycle led to the discovery that he had a rare childhood bone disease.  John (at age 13) would go into permanent remission, but because getting injured while playing sports became an issue, his parents encouraged him to spend more time on his music.  He did.
Over the years that followed, John became more and more interested in music, falling in love with bands like ZZ Top, Gerry Rafferty, The Bee Gees, Chic, Boston, and Foreigner.  When the relative who lent him the Univox came to reclaim it, John's parents purchased a Harmony Stratotone H48 with an Ampeg Amplifier.  (This is the same guitar he's holding on the cover of his debut album!)
John continued to follow his passion over the next couple of years, taking lessons on guitar, bass, Bb clarinet, saxophone, and drums.  After spending many hours playing and practicing, John was rewarded for his efforts.  His Dad took him for his first "pro" guitar.  They went to Hartzell's Music store in nearby Bloomsburg, where John fell in love with a Gibson Les Paul Custom "Black Beauty."  John knew by the look on his Dad's face that the guitar was definitely not in the budget, but Dad (being the coolest) was able to buy him a black Fender Stratocaster.  A Fender Twin Reverb amp would soon follow.   John practiced every day and got his first "pro" band "Strider" at age twelve.  Getting to sign a fan's arm with a Sharpie at one of his early high school dances convinced him that music was the only career for him!
Since then John's played thousands of gigs with dozens of bands and even got to open for a few national acts.  He graduated from Wilkes University, married his beautiful wife, Valerie, bought a house, and recently built his own recording studio.  In 2007 tragedy struck when he suffered a stroke.  A few years later, he also had several eye surgeries.   John, tough as nails, drew on his faith and with the help of God, family and friends, enjoys a nearly complete recovery!   Since his recovery, he's been enjoying a successful  teaching practice, entertaining as a Harry C. Productions DJ, and still plays LIVE every chance he gets.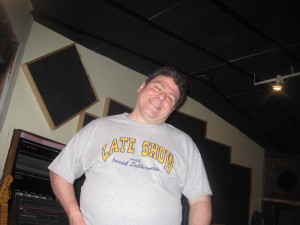 And now, in 2013, he is ecstatic to finally get the opportunity to release his solo debut album.  The album, a sort of demo for the guitarist, features nine original songs plus a cover of one of John's favorite instrumentals, Santo and Johnny's Sleepwalk.
John says, "I love so many styles of music.  How could anyone listen to just one?  My favorite songs are the ones with an infectious groove and an awesome hook.  For me a song has to have strong rhythm and be very melodic.  I grew up listening to great guitar and five part vocal harmonies.  Now that's real music."
John is currently available and actively looking for studio sessions (guitar and bass), commercial work, or touring.  Anyone interested in having John appear on their projects are encouraged to visit his contact page.  Guitarists/Bassists interested in private lessons with John are also encouraged to visit his contact page.